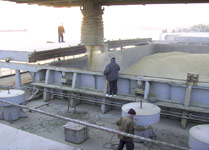 BOTRANS LTD follows "In-House" procedures laid down under the ISO 9001:2008 quality management system requirements. All work is undertaken through a management quality control manner and whilst the Company has not fully implemented the full accreditation, the system is in place and followed rigourously by Management and staff throughout the organisation.
In accordance with the requirements of The Grain and Feed Trade Association (GAFTA - of which BOTRANS LTD are a Category C Superintendent Member and has been since 2002) the Company is fully accredited according to ISO/IEC 17020-2012 as an inspection body, Type A, in the scope of "Inspection of suitability of vessels for the carriage of grain cargo", "Quantity inspection of grain cargo on marine transport" and "Quality inspection of grain cargo during transfer by marine transport" in respect of grain, seeds and pulse cargoes from Northern Black Sea Ports and undertakes annual audits by the Global Accreditation System Corporation (GAS) to maintain this accreditation.
Furthermore, BOTRANS LTD and staff have extensive experience in a broad range of Marine and non-marine investigative quantative surveys which can be broadly categorized (but not exhaustive) around the following:
Steel inspections - for exporters, Shippers, Protection and Indemnity Associations (on behalf of Ship Owners), for Trading Houses and their Insurers. Furthermore, we maintain a team of dedicated "In-House" tally staff;


Grain Inspections - sampling, supervision and on-site analysis, this would also include hold cleanliness inspections, draft (and quantity by deadweight or silo) surveys;


Vegetable oil surveys - sampling and analysis surveys covering Palm Oil products, Sunseed oil. Tank calibration by ullage or dips.


Fertilizers and mineral shipments - sampling, supervision and on-site analysis to include hold cleanliness inspections, draft (and quantity by deadweight or silo) surveys.


Ship inspections - On-Hire condition and bunker surveys, cargo compartment salinity tests, damage investigation, cleanliness surveys and supervision of hold cleanliness requirements.


Inland transport inspections - inspecting means of conveyance for cleanliness, water tight integrity, security and weight.


Load and discharge supervision - acting as Port Captain and Owners representatives to minimise delays in loading and discharge, covering all cargoes, whether same is bulk or break bulk shipments.


More specific assessment of the captioned Inspection work performed by BOTRANS LTD can be found in our information pages. Need more information - please feel free to contact us and to discuss your specific requirements.
29A SHEVCHENKO AVENUE,
OFFICE 2,
ODESSA, 65058,
UKRAINE.

Tel: +380 (48) 786 0005 / 728 6631
Tel: +380 (48) 722 2835
Fax: +380 (48) 728 6630

e-mail: operations@botrans-ltd.com
© 2005-2021 Botrans Ltd, All rights reserved.